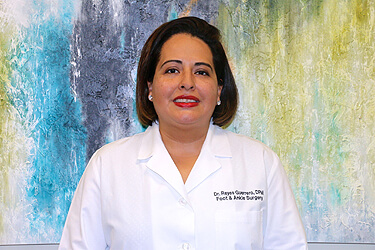 Dr. Edna Reyes-Guerrero began her medical career as a Licensed Vocational Nurse in El Paso, Texas. She completed her LVN courses while in High School and worked as an LVN through college. It was during this time that she discovered Podiatry and decided to pursue as a profession. She then attained her Undergraduate Degree in Biology and a Minor Chemistry from St. Mary's University in San Antonio in 2002. After graduation she attended Podiatric Medical School at Barry University in Miami, Florida.
After receiving her Doctor of Podiatric Medicine Degree in 2007, she moved to Houston where she attended the West Houston Podiatric Surgical Residency Program. She spent three years studying foot and ankle surgery and was Chief Resident. Dr. Reyes-Guerrero was also elected to complete an advanced rotation in complex foot deformities at the International Center for Limb Lengthening (ICLL) Rubin Institute.
Dr. Edna Reyes-Guerrero is an active member of the American Podiatric Medical Association, Texas Podiatric Medical Association, and a fellow of the American College of Foot and Ankle Surgeons. Dr. Reyes-Guerrero works with West Houston Residents in her clinic and enjoys teaching them and learning from them as well. She is also associated with Patient's St. Luke's Wound Clinic and volunteers at local homeless shelters in her free time.
Dr. Edna Reyes-Guerrero most commonly treats issues of the foot and ankle including but not limited to bunions, hammer toes, toenail fungus, fractures of the foot, ankle, forefoot, and rear foot reconstructions, and diabetic foot care. She speaks fluent Spanish, accepts patients of all ages, and most insurances.
She enjoys spending time with her husband and her daughter, Frida. She is the oldest of three children and she and her husband make it a priority to spend time with their families. She enjoys reading and immersing herself in different cultures through travel and experiencing new foods.